The Parent IEP Guide

Like children, adults learn and process information differently. If you are the type of person who prefers to read information in a book format rather than browsing through web pages, the IEP Guide was created just for you.


 DOWNLOAD the PARENT IEP GUIDE directly to your computer or order the NEW hardback copy!
Computer Download $9.99

Also available in a hard copy for
$14.99 through AMAZON
This easy to read workbook helps you organize your child's school information, provides you with FAQ sheets on the special education topics you're looking for and helps prepare you for a successful IEP meeting.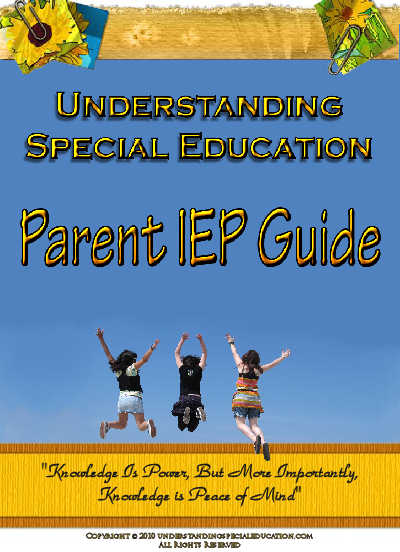 In addition to summarizing the most important topics found on the "Understanding Special Education.com" web site, it also contains:
The guide is designed specifically for parents.  Its goal is to answer the following:

What is Special Education?
What is the law and what are my rights as a parent?
What is IDEA?
How do I know if my child needs special education services?
What is the IEP process?
How can I make sure my school is providing my child with an appropriate education?
What do I do if I don't agree with my school?
How can I ensure my child is successful?
This IEP workbook can be purchased two ways.   It is available by securely downloaded directly to your computer for $9.99 or for $14.99 you can purchase it printed. 

BUY PRINTED HARD FOR COPY $14.99

You can take the guide with you to IEP meetings,  parent-teacher conferences or you can just have it near by if you need more information on a specific special education topics.
IMPORTANT NEWS FOR PTA's, CAC's and SCHOOL DISTRICTS!
The Parent IEP Guide is perfect for parent groups, special education functions or for school districts wanting to provide their special education families with this valuable information.

 

DISCOUNT OFFERED ON ORDERS OF OVER 50 COPIES 

CONTACT US FOR INFORMATION ON BULK ORDERS
Want to know more about SBI!?  Read my review today! 
Thank you for visiting Understanding Special Education!