Special Education Technology

Special education technology and adaptive devices can benefit your family by helping your child complete tasks, while increasing their independence and exposing them to some basic fun.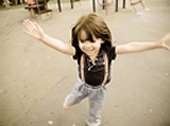 Understanding Special Education  does not promote or sell any of these products.   Instead, we hope to increase your knowledge about special education technology products that are available so that you can research items that may be appropriate and helpful to your child.   Of course, if you have any questions about any items we spotlight, feel free to Contact US at any time.

Communication Boards: Helpful for children with autism or those with speech and language delays, these boards augment communication. The child points to a picture or symbol located on the board and in return it speaks the word or phrase. Some boards are pre-programmed while others allow a specific message to be recorded.
Head Wand: A special education technology utilized by children with severe disabilities, the child wears a headband that supports the wand which is then used to point to a place on a communication board or a computer screen. The equipment then speaks for the child.
Communication Books: Used by children with autism or those who struggle with verbal language, these books encourage a child to choose a small picture card. The card allows the child to ask for something or to answer a question. Called the Picture Exchange Communication System, PECS, it was created by Andrew Bondy, Ph.D. and Lori Frost, M.S.
Screen Readers: Screen readers read aloud the information on a computer screen. Some will read materials from books and papers that have been scanned. This special education technology increases your child's access to printed material, textbooks and reading for pleasure.
Music CD's: There are so many musical CD's out there today that can assist with learning. Months of the year, days of the week, counting, the alphabet, states and capitals are only a few of the topics that can be found set to music. Many different types of music are used so you can pick a CD that showcases your child's favorite style.
Books on Tape: These are helpful for children with visual impairments or reading disabilities like dyslexia. Books on tape assist students who have difficulty reading or seeing printed materials. Some textbook companies also produce audiotapes.
Velcro Strips: To help a child receive tactile stimulation, apply a strip of Velcro under their desk to provide them with an instant source of tactile input. Simple, but it can be effective.
Squeeze Balls: A simple toy filled with either clear water or a squeezable foam material. These can provide a child with tactile stimulation without being noisy or disruptive. Note: not a great toy if your child likes to bite.
Bean Bag Chairs: These are not really a special education technology, but beanbags can be a great way for a child to receive deep pressure. Children enjoy the comfort and feeling of their security.
Magnetic Calendars: The use of a weekly and monthly calendar both at home and at school can provide a child with important information regarding upcoming events and activities. The calendar provides a visual cue to things like bath night, swim lessons and family dinner night.
Highlighter Tape: Many children with autism possess strengths in decoding skills but difficulties with comprehension. Highlighter tape is an economical way to highlight text without it being permanent.
FM Auditory Trainers: Children who are deaf or have significant hearing loss may use an FM auditory trainer in school. A microphone is worn by the teacher, and a receiver is worn by the student. An FM trainer has several settings.
Phones and Doorbells: A child with a hearing impairment will probably need to use amplification in daily life. The phone and doorbell can be hooked up so that a light flashes in addition to sound. Special alarm clocks also flash light. Some can be connected to the bed so the bed vibrates when the alarm goes off.
Bath Devices: There are many gadgets that assist with hygiene and dressing including bathing chairs, long handled combs and brushes, zipper grips, and button hooks. Adapted utensils, cups and dishes are also available.
Calculators and Spell Checkers: These devices are an easy way for an older child to receive modifications and assistance with assignments.
Watches: This simple technology can be purchased with an easy set alarm. This can be helpful to an older child with ADD/ADHD or Asperger's Syndrome to help them remember certain events.
Talking Watches: A great watch for the blind, visually impaired or for the older child who can not master telling time. This special education technology looks like a regular watch but a button is pushed and the time is said aloud.
The Tap It (Touch Accessible Platform Interactive Technology): ADA compliant learning station designed to recognize a finger intentionally tapping an image. Provides full access to the screen for students using wheel chairs or other mobility devices.
Timers: Timers are another way to provide much needed time constraints and structure for completing tasks like chores, schoolwork and other time management skills.
Mini Tape Recorder: Some older students find it helpful to record a teacher's lecture instead of trying to take notes. They can listen to the lecture again and again while completing assignments. Of course, you should receive permission from the teacher before recording.
Touch Window: This allows children the ability to interact with the computer by touching the screen rather than having to use a mouse. It can be easily mounted to the monitor and is available for both Windows and Macintosh.
Wireless Keyboards: This is a useful technology for those students who have severe handwriting difficulties. Wireless keyboards allow students to input notes, writing assignments and perform other school tasks. They can also be a way to assist students to keep up with the class. Sometimes, an IEP will include a goal using special education technology, like a wireless keyboard, as an accommodation that the student can use.
Big Keys: These keys are large with various alphabet letters and numbers that are color coded to help a child find the specific key. Keys are approximately one inch by one inch.
Trackballs: These come in various sizes and shapes and allow a child to move the mouse around the screen by rolling a stationary ball with either the fingertips or hand. Some children find this easier to operate than a standard mouse.
Intellikeys: An alternative keyboard that connects to the computer. The child pushes various locations on an overlay which includes the alphabet, numbers and mouse direction.

Do you have a favorite special education technology or a great toy that helps your family with daily life?   We'd love to hear from you and add it to our list.