Study Skills for
Improving School Success

Study skills may sound like term from long ago.  However, at some point in time, most children have difficulty with a particular class or subject matter. Children with learning disabilities often have difficulty with two very important skills, multi-tasking and organization.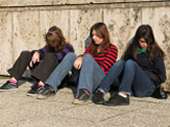 The following are some general skills and strategies that you can implement at home that will hopefully help your child experience more confidence and achieve school success. These study skills are generally geared towards older children (over age 8) but you should be able to adapt them to fit your child's academic level and individual needs.   Also, remember the importance of regularly communicating with your child's school and utilize the parent teacher conference.


1. SET GOALS:

Sit down with your child and talk about academic frustrations and current study skills.   Really attempt to have an actual conversation. Ask them to come up with three academic goals for the semester or school year and together, write them down.   These goals should be measurable and very specific.  It's best if they focus on habits that need to improve.
An example of measurable goals are: "I Will Get no More Detentions from Mrs. Baker", or "I Will Turn in My English Vocabulary Assignments on Time."

Post the goals in a visible place and schedule a time every month to preview your child's progress. You may want to set up a weekly progress report with your child's teacher(s) informing them of the areas that your child is working on. Or, maybe they are willing to email you each Friday to let you know if progress was made.

Although it's fine to celebrate our children's academic success, it's best to NOT attach a direct reward like paying cash for A's and B's. Although tempting, this gives your child the message that only the actual grade is valued (at any cost) not the learning process itself. This can lead to cheating, plagiarism and other drastic measures. Also, your child should feel that they can make a mistake and learn from it rather than be "punished" by losing their reward.
Celebrate learning and make it a family value instead of a cash business.


2. CREATE an ORGANIZED BINDER:

Your child will benefit from having a three ring binder for each subject with five tabbed dividers.   At the end of every two weeks, empty out the papers that have been graded or are no longer needed. Your child should become familiar with a hole punch machine. You can buy paper that is already hold punched.
The five sections of the binder should include:
Notes
Homework
Handouts and Worksheets
Tests and Quizzes
Blank Paper
Schedule a time once a week where you and your child can sit down and go through the binder together.  Remember you are helping your child learn a new skill.  Help your child organize assignments into the right sections.  You should have a pocket at the front of the homework section to hold what is due the next day.   By reviewing your child's binder, you should also begin to discover their strengths and weaknesses.

 For example, you may notice that your child does not seem to understand how to take effective notes.   This discovery may result in bringing it to the caseworker's or teacher's attention, or maybe even adding it to your child's IEP goals as an area that needs improvement.


3. USE A PLANNER:

Many schools provide students with a planner or homework assignment sheet.   Make sure the space for writing down assignments is not too small. It is best to use a planner that has a full page for each day.   Your child should write their extra-curricular activities in the planner as well as their schoolwork.  If your school uses an internet services like SchoolLoop and has their homework posted on line, have your child check it every day before they start their homework.  Many schools will also send an email reminder to the student and parent with the daily homework listed.

4. CREATE A STUDY PLACE:

To improve study skills, try to avoid having your child do their homework in their bedroom, especially if they are teenagers.   There are many distractions lurking in bedrooms. T he dining room table, kitchen or home office is usually a better choice.   Study time should be TV free.   Also, remember to utilize your public library.  They may even offer tutoring or study skills programs.


5. SCHEDULE A HOMEWORK TIME:

Kids of all ages respond well to a routine, especially those with specific learning disabilities.   Most children need a break after school to have a snack and do something relaxing before tackling homework and projects.  It's helpful if you have a scheduled homework time of at least an hour.  If your child finishes early, use the time to organize the binder or read for pleasure.


6. CREATE A TIME TO MENTOR:

Your child needed your help when learning how to read, how to ride a bike, or when learning other new activities.   It's no surprise that they need your help learning study skills including organization and time management skills.   Help your child learn to break up projects and research into small, manageable tasks instead of procrastinating and trying to do it all the night before it is due.   They also need to learn the study skill of how to schedule their time into productive blocks and set daily small goals in order to finish the project on time. After a few tries, they should start to do this themselves and understand its value.

Specific Study Skills
The following are specific study skills and tutoring strategies that I've highlighted that may help your child with a particular class or type of assignment.
Flash Cards
Flash cards are great study skill used for learning vocabulary words. Have your child write the word on one side of an index card and the definition on the flip side. These are great for English assignments. They are easy to carry around and learning occurs while creating them. Keep the old flash cards in a shoebox for the remainder of the school year in case the material will be covered later on a final exam.
Math
The best way to study for math tests is to create a review sheet of formulas, terms and other necessary information. Then, have your child perform practice problems, over and over, until they can be completed without mistakes. You can also create practice tests for your child. There are also web sites available like

Math Problem Solving

that can help you with specific strategies and tutoring information.
Geography
Print out blank maps and fill in the required information. Flash cards also work well for learning capitals and states.
Quizzes and Exams
Multiple-choice tests confuse many children, especially those with learning disabilities.  If your child is really struggling with the format, ask the teacher if they are willing to offer an alternative exam that uses short answer or essay.  If your child is studying for a multiple-choice exam, it is best if they think about the answer before looking at all the choices. This helps avoid confusion.   Then, have them eliminate the choices that they know are false.   Then, choose the one that correlates most with the answer that they first came up with.   They shouldn't spend more than 30 seconds on a question.   They should answer the ones they know first and then if there is time, go back and work on the ones that were confusing or difficult.
Writing Assignments
Many students struggle with writing, especially with how to get started.  Ask their English teacher if they have an essay outline or template that they use. If not, you can create on your own. An outline assists your child by having them fill in the blanks with short answers.  This helps them to see the logical flow of the essay.
Reading Assignments:
Help your child understand the value of being an active reader.   If allowed, have them use a highlighter to focus on main themes and storylines.   They should take notes as they read, either on sticky notes in the margin of the book or on plain paper in their binder.   Ask your child to tell you about the story and ask them questions about what they read.

It's important that children read for pleasure.

  Reading increases our knowledge of the world, our vocabulary and our ability to remember things. The more children read, the better their comprehension becomes.

The critical reading skills required in high school are not something kids are born with.

  These skills develop as you read to your child and through continued reading as they get older.


As a special education student, your child may be required to take the exam without modifications.   Make sure this is addressed in your child's IEP and that you are clear about what will be required of your child

While your child is learning valuable study skills, try not to take over your child's assignments. Even though your intentions are good and you just want your child to succeed, they need to take responsibility for their own learning and feel like they've earned their grade, not you.